Discover the Vibrant Underwater World of Nova Maldives
If you're a diving and snorkelling enthusiast seeking to immerse yourself in the vibrant wonders of the marine world, look no further. Nova is your gateway to an aquatic paradise, where the azure waters beckon you to explore a kaleidoscope of marine life, from colourful corals to majestic whale sharks and manta rays.
So, slip into your swimsuits, soak up the good vibes, and let us take you on a soul-stirring journey through the underwater realm of Nova.
South Ari Atoll – A Diver's Delight
Nova's prime location in South Ari Atoll in the Maldives sets the stage for a surreal diving and snorkelling experience. A thalassophile's ultimate playground, South Ari boasts crystal-clear waters and an impressive array of marine life. With deep pinnacles and long shallow reefs to explore, this western archipelago promises an escape from the hustle and bustle of daily life.
Swim with Gentle Giants
At Nova, encountering gentle whale sharks and majestic manta rays is an everyday affair. These magnificent creatures grace the waters of South Ari Atoll all year round, providing an awe-inspiring spectacle that will forever remain etched in your memory. Imagine swimming alongside these graceful beings, feeling an instant connection with the rhythm of nature. This is one quintessential bucket list experience you won't want to miss.
World-Class House Reef
The house reef at Nova is akin to a living canvas, adorned with a dazzling diversity of marine species and vivid corals. As you snorkel or dive beneath the surface, you'll find yourself surrounded by a bustling community of fish, each painted in hues that rival the most exquisite artworks. The corals, teeming with life, create a mesmerising backdrop to add to this soulful atmosphere.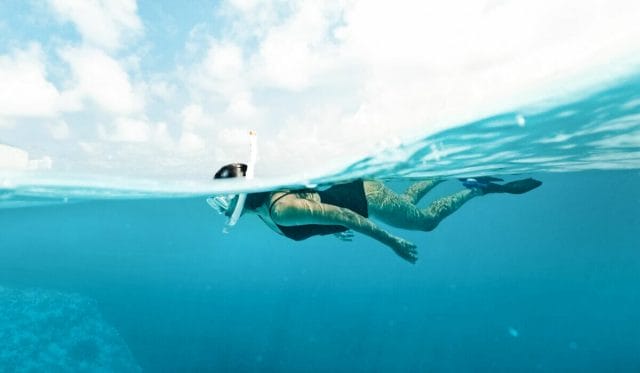 Diverse Dive Sites Nearby
For diving enthusiasts seeking a rush of adrenaline, Nova offers access to multiple breathtaking dive sites nearby. Some of the most famous sites include Kuda Rah Thila, Broken Rock and Reethi Thila. Whether you're a novice or a seasoned diver, these sites cater to all skill levels, promising encounters with the ocean's most captivating residents. Explore stunning caves, dramatic drop-offs, and captivating swim-throughs in this underwater playground.
Dive Your Way with Aquaholics
Your soulmates at Aquaholics are passionate experts who live and breathe the ocean. Their genuine love for the marine world is contagious, and they are dedicated to customising every excursion to suit your preferences.
Whether you wish to embark on a thrilling deep-sea dive or leisurely snorkel the house reef at night, they've got you covered. And if you've never experienced the joy of diving before, fear not. The Aquaholics team offers diving lessons to help you explore underneath Nova's blue.
Dive into the magic of nature and book your good soul days now. Email us at [email protected] or talk to us via +960 66 88 777.