Dive into the Depths of South Ari Atoll: A Diver's Paradise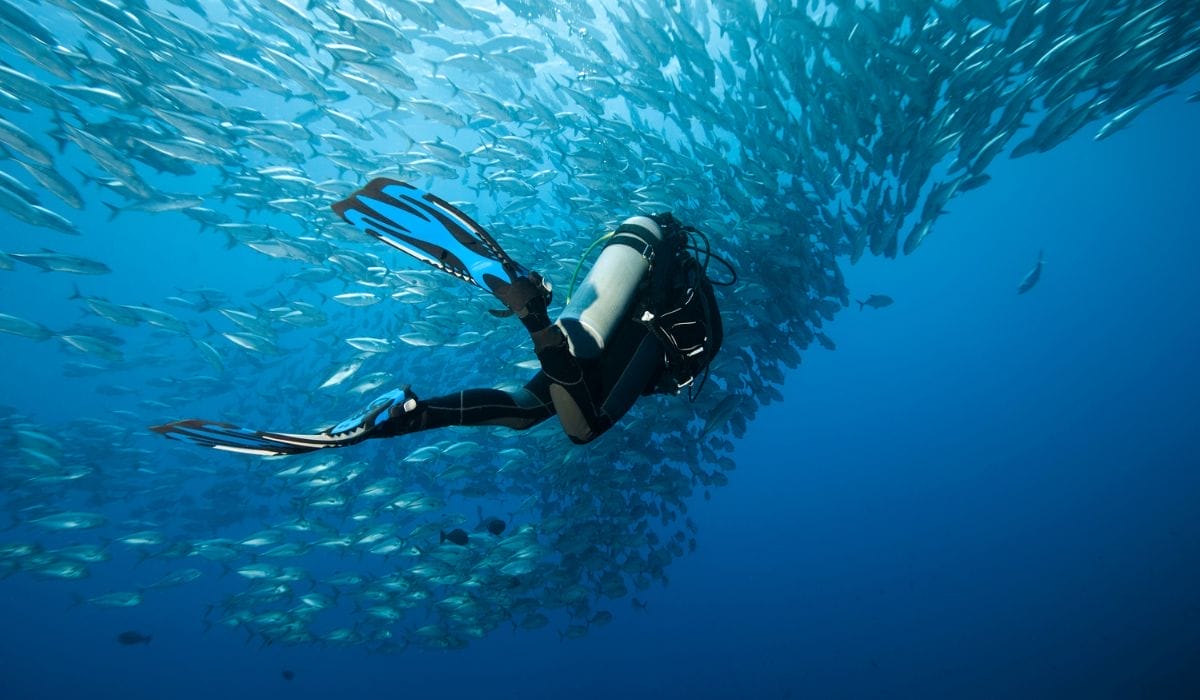 In search of the best scuba diving sites in the Maldives? Venture no further. Nova Maldives, nestled in the heart of the enchanting South Ari Atoll, presents a gateway to an underwater realm that's nothing short of magical. 
Let us take you on a journey through the most exhilarating dive sites, all conveniently located near Nova.
Kuda Rah Thila: A Symphony Underwater
Just 10 minutes away from Nova, in the inner atoll, Kuda Rah Thila is a scuba diver's dream. Renowned as one of the most famous dive sites in South Ari, it offers a mesmerising drift along the reef's eastern side. Glide under overhangs teeming with vibrant corals and swim through a western archway leading to an underwater garden. Here, eagle rays and jackfish perform an aquatic ballet amidst schools of fusiliers and blue stripe yellow snappers. It's an underwater symphony inviting you to be its audience.
Reethi Thila: A Marine Mosaic
Twenty-five minutes from Nova lies Reethi Thila, also known as Five Rocks. This site showcases an underwater pinnacle formed by five rocks, each adorned with magnificent corals. Twists and turns reveal marine marvels: shoals of fusiliers, great barracudas, and even the occasional whitetip and grey reef sharks. Witness anemones and sea fans, alongside a vibrant array of tropical fish and elegant whip corals.
Broken Rock: Nature's Artistry
Twenty minutes away, Broken Rock captivates with its unique formation—a canyon that splits the pinnacle in two, offering a surreal swim-through experience. This dive spot, nestled in the channel between Dhangethi and Dhigurah, is a gallery of marine life: fan corals, Napoleon wrasse, turtles, and a myriad of fishes, all flourishing under the sea's gentle embrace.
Noo Giri: An Underwater Haven
At a mere 25-minute journey from Nova, Noo Giri's shallow reef begins at just three meters, descending to depths of 30 meters. Here, the reef's slopes are lined with overhangs and corals, hosting a diverse ecosystem. From elusive moray eels to vibrant nudibranchs, and even hawksbill turtles, each dive is an encounter with the extraordinary.
Kudhi Maa Wreck: An Oceanic Treasure Chest
Only five minutes from Nova, the Kudhi Maa Wreck on Centara Grand's house reef is an inner atoll spectacle. This shipwreck, a hub of marine life, is a haven for lionfish, red snappers, and myriad other species. Dive amidst the wreck and witness the dance of whitetip reef sharks, nurse sharks, and even the enchanting glassfish.
Our expert team at Aquaholics is highly familiar with the hidden treasures in and around the dive sites in South Ari Atoll, planning trips according to the season and weather to maximise chances of having unique underwater encounters.
Discover the magic of diving in South Ari Atoll and book your good soul days now. Email us at [email protected] or talk to us via +960 66 88 777.