A Unique Meditation and Underwater Experience in the Indian Ocean
Genuine happiness is something achieved not only with optimism but also through practice and skill. While stress and anxiety are part of our daily life, the connection between spirit and nature is one of the greatest ways to improve our body's mental and physical health. Creating a path to serenity, and helping you find a true balance of mind, body, and spirit is the destiny at your soulful island, Nova.
Don't you want to get away from all the hubbub of restless thoughts and relax completely? We have designed the perfect healing journey for you.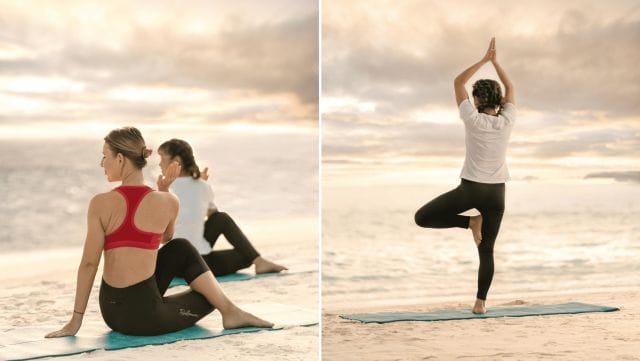 1. Feel the harmony in your soul
One of the ways to achieve a state of peace is meditation; the art of bringing your mind back to the present moment and giving your complete attention to one area, completely calming your mind.
Meditation helps you feel calm and serene as your mind becomes free of agitation. It develops an unshakable inner strength, clarity of perception and the ability to connect with your inner source of energy.
At Nova, your curative journey will begin with a guided calming meditation session that trains your soul to notice thoughts and feelings as they arise, and to explore their contours dispassionately. Through the session, you will learn how to live fully and detach your body from stress and anxiety while heightening your awareness of its five senses.
Surrounded by the sound of the Indian Ocean and the blue sky above, your soulmates will guide you to master the healing power of meditation and bring a more peaceful and contented life within your reach.
2. Your spiritual trip
Settled in South Ari Atoll, Nova presents you with one of the most magnificent snorkelling locations. The untouched underwater heaven is home to a rich array of colourful creatures. Most notably, the sea's gentle giants Whale Sharks and Manta Rays reside in the waters all year round, making it one of the best places to swim alongside them as they feed and cruise along the reef.
Experience the aquatic dream as you take a step into a paradise beneath the way. Your soulmates will guide you in snorkelling through the underwater topography of overhangs and canyons, and brief you on what to do and what not to do when encountering the colourful soft corals and marine life. It is the perfect opportunity to swim alongside exquisite aquatic life and to let your spirit be nourished beneath the azure.
By the end of the trip, you will be welcomed back to your soul place with mouthwatering treats and mindful mocktails, specially prepared by your soulmates in dedication to completing a key step toward your spiritual wellbeing.
At Nova, you will be looked after, cared for, and immersed in good soul days. You can find your inner peace, embrace the beauty of your soulful natural island and lose yourself in the serenity of a timeless haven.
This unique journey is crafted exclusively to make your soul joyful and to brighten your days by drawing unforgettable moments.
Get in touch with us via email at [email protected] or call +960 66 88 777 to book your good soul days.