Say I Do: Celebrating Weddings in the Maldives
Is there anything more romantic than saying "I do" with your toes dipped in powder-soft white sands, or enveloped by the ethereal glow of a sparkling lagoon? 
At Nova Maldives, we bring your wedding dreams to life, making us one of the most sought-after Maldives wedding destinations. Allow us to paint your love story onto our endless canvas of azure seas and cotton candy skies.
Your Wedding, Your Way
We understand that each love story is unique, and that's why we offer a selection of wedding packages tailored to every couple's dream. Whether you envision a beachside ceremony under a stunning arch or a more private affair overlooking the Indian Ocean, we have a package that's as special as your love.
A Stunning Island to Celebrate Your Love
Nestled in the heart of the Maldives, Nova is a sanctuary where love and natural beauty unite. Your soul place where your wedding photographs aren't just pictures, but pieces of art that capture the surreal beauty of your surroundings. Say your vows amidst the lush foliage or against the backdrop of a mesmerising Maldivian sunset; your wedding album will be nothing short of extraordinary.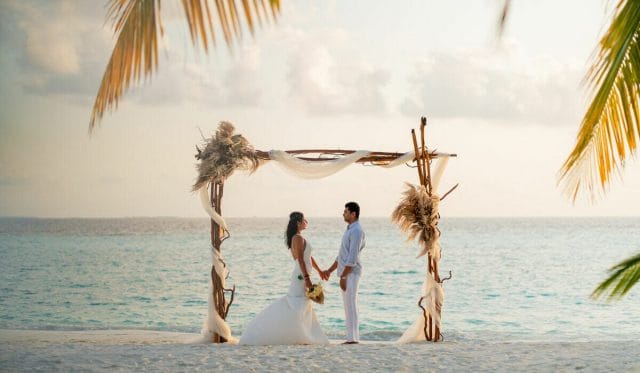 Romantic Experiences to Cherish
As you embark on this new journey of togetherness, Nova offers more than just spectacular wedding ceremonies. Board our private yacht, and as the sun bids adieu, toast to a lifetime of happiness with champagne in hand. Dine under the stars on your very own sandbank, or enjoy a sumptuous meal at the Nava Pavilion with endless views of the lagoon.
A Journey of Togetherness
At Nova, we believe that wellness is an integral part of any love story. Our Eskape Spa invites you to experience blissful tranquillity as a couple. From soothing massages designed to calm wedding jitters to skin treatments that have you glowing for the big day, your wellness journey will be as memorable as your wedding itself.
Book your good soul days now. Email us at [email protected] or talk to us via +960 66 88 777. Your fairytale wedding awaits.